Ohaus CW 11 Digital Scale Readouts are available at Central Carolina Scale

Ohaus CW11
Digital Indicator designed for wet environments
When a Washdown indicator is required, the Ohaus CW-11 provides an economical solution for weighing in pounds, ounces, kilograms and grams. Featuring both static and dynamic weighing modes for general weighing and livestock applications, the CW-11 also offers a parts counting mode and an U.S. NTEP LFT resolution of up to 1:5,000/ default resolution of 1:20,000. With an IP65/NEMA 4X housing, the CW-11 is ideal for washdown applications requiring either AC or battery-powered operation.
All stainless steel IP65 rated washdown housing
Easy-to-read, large 25mm backlit display
Easy serviceability with "Quick Release" back panel – no screws or bolts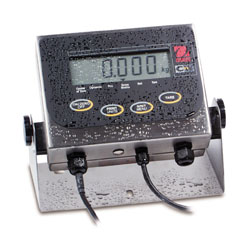 Combining the easy-to-use features of the popular Ohaus CD-11 indicator with a stainless steel washdown housing, the CW-11 provides an extremely durable indicator for industrial applications. Meeting NEMA 4X and IP-65, the CW-11 can support up to four 350-ohm analog load cells for use in industrial and laboratory applications.
• 1 part in 20,000 non-LFT maximum displayed resolution
• AC power hardwired cordset or up to 100 hours battery operation
• RS232 interface is standard
•NEMA 4X / IP-65 Stainless Steel housing
• Weigh in lb, kg, g or oz
• Large Backlit LCD Display
•Parts Counting and Animal/Dynamic Weighing modes
• Stainless Steel mounting bracket included
• Easy open case, no special tools required
• Extra water tight pass-through included
Specifications
Keyboard:
4 Function Membrane Switches
Display (in/cm):
1.0 / 2.54 digit height backlit LCD
Power requirements:
Internal AC adapter or (6) Alkaline
Stabilization time (seconds):
1 - 4 seconds (user selected)
Weighing modes:
Simple parts counting, dynamic (animal) weighing
Weighing units:
lb, kg, g, oz
Scale Weight (lb/kg):
6 / 2.7
Over range capacity:
Maximum capacity +9d
Auto shut-off:
Yes
Auto Zero Tracking:
OFF, 0.5, 1, or 3 divisions
Display resolution:
1:20,000 max. (non - LFT)
NTEP Resolution:
1:5,000 - LFT
Graduations (lb/kg):
0.001 to 5
Interface:
Bi-directional RS-232
Load cell excitation (V dc):
5 VDC
Load cell drive:
(4) - 350 ohm load cells
Load cell input sensitivity:
2 or 3 mv/V
NTEP Number:
99-100A1
Span Calibration:
20% to 100% of capacity
Zeroing range:
2%, 18%, 100% of capacity
Protection:
IP-65/NEMA 4X
Housing:
Stainless Steel
Input/Output Ports in Housing:
4
Battery life (typical):
100 hours with (1) 350 ohm load cell; 40 hours with (4) 350 ohm load cells
Battery requirements:
(6) Alkaline
Mounting Bracket:
Included
Dimensions WxHxD (in/cm):
9.75 x 4.12 x 8.0 / 24.75 x 10.5 x 20.3
Shipping Wt. (lb/kg):
7.1 / 3.23
Shipping dimensions (in/cm):
12.75 x 9 x 7 / 32.5 x 23.0 x 17.75
Operating temperature range:
14° to 104°F / -10° to 40°C
Operating Humidity Range:
10% to 95% RH
Comments:
EC Type Approved models available. Please contact your local Ohaus office for further details.
For more info or to place an order, call (919) 776-7737